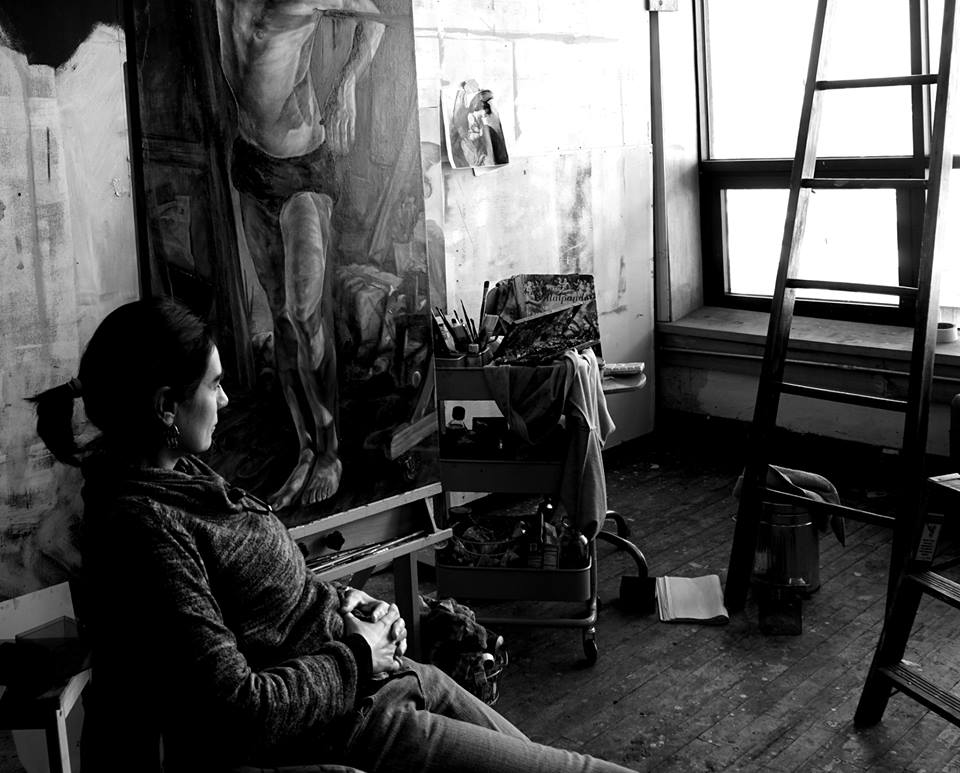 "I'm a Mexican artist living in Chicago since 2015. I am an imaginative artist fortunate enough to face every day with a limitless blank canvas. My training was in art restoration and I specialized in the great Masters of the seventeenth century New Spain (Mexico) Baroque. I analyzed their technique for many years and what I was able to discover is that it is a very particular way that they applied the color on the canvas with a precise order. They only used 8 pigments in most cases and the result was an art wonderfully rich in color and light. I translated all this knowledge in my own pictorial language, with color being an invaluable resource and a powerful and dramatic expression.
People inspire me with their stories permeating from their eyes. I obsess over the story and I try to express it by painting human behavior through their motivations. When I think about a work, I first write the already defined idea. I find a model and let whoever finish telling the story which in many cases is myself. In this way, the creative process becomes very intimate. In my painting the body with all its nuances is the main protagonist and I use compositions in indoor spaces. My characters are theatrical and have exaggerated postures either through their aggressiveness or passivity. Art, in my opinion, must be designed primarily to communicate, regardless of the timing or space; be empathetic and universal."
Bio
Carmen Chami (Mexico City. 1974) graduated in Art Restoration. Chami showed a deep interest in the Mexican baroque painting technique of the seventeenth century. She studied this technique forgotten for several decades, through reproductions of the best Mexican baroque artists as Cristobal de Villalpando and Juan Correa, this research last for almost ten years. All this collection was exhibited in Cuernavaca's Museum in 2000 supported by the grant "Apoyo a la Formación Artística y Cultural" offered by the FONCA in Morelos. Later she developed all this techinical knowledge in the Master of Visual Arts at San Carlos Academy. She graduated with honors.

Chami's solo shows highlights are "Silent Witness" Dorothea Thiel Gallery, (2017); En el Diván in Guanajuato's Town Art Museum (2015); Parábolas de un Itinerario Fortuito in Aguascalientes Center for the Arts and Culture (2013) and Estratagemas Aldama Fine Art gallery (2012). In 2016 she awarded the National Creators System Art Creators. Her paintings belong to important institutions and private collections as Mexican Presidency; Marines Secretary; Steven Bennett and Dr. Elaine Melotti Schmidt; National University of Mexico; Milenio Group and the National Death Museum.
In 2018 she had the comission for the Enrique Peña Nieto Presidential Portrait for the Presidential Gallery in the National Palace, Mexico City.
Nowdays she is part of the National Creators System supported by the mexican government which obtained a grant for three years to develop the theme "Adlateres Migrantes".
What others says about me....
Books, Press and Catalogues
Carmen Chami and the Quotidian I
"The artist use the self-portrait, creation is contained in the deformed and falsified universe that returns from the mirror. Carmen Chami stopped looking far away and beyond to look into the mirror, she is both the research and subject, she is observed to dissect each of her traits, gestures, she is desmembered to be reconfigured as another being, into a character who incarnates an unfinished story. She paints two people, one real, authentic, who is observed and reproduced in all of its carnality and the other she invents, her face in her own mask, it is revealed through a fiction of itself, of a lie.It is Penelope, Lady Macbeth, she is a killer or a seductress, Carmen finds herself in all of them, she sublimates her weakness, she exalts her darkness. Paintings plays the satrring role, that scenario allows her to exist, seating behind an antique sewing machine, it brings together an enourmous canvas of faces; she raises a fragment and begins to cut it with scissors. What life does Carmen cut?. What face does she wish forget? Why did she sew it together to then tear it apart? [...]Her command over the knowledge of the human figure, of its tonalities, densities, movements, gives reality to Carmen's incarnation on their other women,it might seem that Carmen paints herself, and that permits her to flee but that it not the case, she enters her own inner world with utter abandon, she is saturated with herself to paint herself again."
Avelina Lésper. Quotidian Pleasures.Aldama Fine Art/Ediciones el Camino
Book 2018
"RECOMMENDED
In an exhibition with work by male and female artists, the most formidable warriors in this exhibit are some of the women artists themselves. Carmen Chami immerses another artist, Aya Watanabe, in the spatial dynamics of historic Japanese screen painting as well as presenting the portrait subject's unique personality. It's done so well you might guess that Chami specializes in a Japanese style, but if you visit her website, you won't find anything else like it. You will, however, discover her Mannerist self-portrait as Judith with the severed head of Holofernes between her legs. She's an incredibly effective narrative painter who can work the expressive details of a human face into a strong design. [...]".
Chris Miller, "Wonder Woman: A review of Woman as Warrior at the Zhou B Art Center" Art Newcity. Chicago.
"Chami's superb portrait entitled Aya Watanabe shows a beautiful, strongminded Japanese woman who, despite coming from a sociocultural tradition of female submission, broke the rules early on to carve out her own destiny. Chami visually captures Watanabe's courage, strength, and sense of self-reliance, essential characteristics to take the road less traveled. The traditional Japanese setting is a reminder that we never quite break with our past, no matter how far we have come. The use of fine realism in combination with strong graphic elements makes this portrait a joy to the eye."
Lorena Kloosterboer, Poets and Artist. Woman as Warrior. Zhou B Art Center Chicago.
"En sus obras de extraordinario oficio, se aprecia un dibujo riguroso, un conocimiento de anatomía física y emocional que nos refiere a los maestros de antaño. Carmen infunde fuerza vital a sus personajes, a quienes además de verlos, sentimos su presencia. Considero que este es uno de los atributos más poderosos de su trabajo, emplear la pincelada no como herramienta académica sino con el criterio de infundir la vitalidad que implica el objetivo que se ha planteado. Enmedio de la tecnología que actualmente se aplica a las artes visuales sobresale esta apuesta por la pintura que enriquece la diversidad expresiva de nuestro tiempo. [...)"
Lupina Lara Elizondo, Compendio de Creadores Mexicanos, Tomo III. 2016
"[...} Pintura de narrativas, parte de sus propios intereses teóricos y vivenciales; las cinco imágenes aquí mostradas son autorretratos, ¿qué mejor modelo para la introspección que el propio yo transferido al lienzo? Dispuesta como símbolo, la artista se sirve de sí misma para hacer patente su postura, física e ideológica, ante la realidad, sin concesión en la representación de las carnaciones multitonales o en la expresividad de las fisionomías y cuerpos, que no buscan idealización alguna. [..}"
Sofía Neri Fajardo, Evocaciones 2016. Catálogo Aldama Fine Art
"Al preguntarme de qué quería hablar particularmente Carmen Chami, vi que Carmen Chami tiene muy claro de qué quería hablar, y sigue hablando hoy en día, es de la cotidianidad. Pero no plasmar cosas cotidianas, sino la psique de lo cotidiano. [...}"
Avelina Lésper, La poesía vista por el Arte. 2015
"Carmen Chami es malabarista del pintar para hallar gestos de esfuerzos en acciones exactas y atentas. Explora diversos matices, texturas y luces en tonos similares en los elementos de una escena. Crea para indagar los dilemas de los rostros. Con minucia trata deterioros, herrumbres, pasos del tiempo y sus huellas en las cosas, en los cuerpos, y en la espera diferenciada entre lo elegante, lo inédito o lo miserable. Pintando da sentido a seres crispados, orillados a acciones ineludibles: que simplemente yacen o que realizan acciones contundentes.
La artista ha ejercido una voluntad firme para transitar por la pintura como medio expresivo, explorando —gracias a su conocimiento de materiales, herramientas y procedimientos— las tradiciones técnicas de la disciplina articuladas en discursos de sus propias búsquedas actuales, personales y artísticas, no exentas de tensiones entre su bagaje académico, la vida misma y la crítica a las interacciones humanas en ella [...}"
Eugenia Macías, Carmen Chami: oficios pictóricos como recursos reflexivos y vitales. Catálogo Estratagemas. Aldama Fine Art. 2012